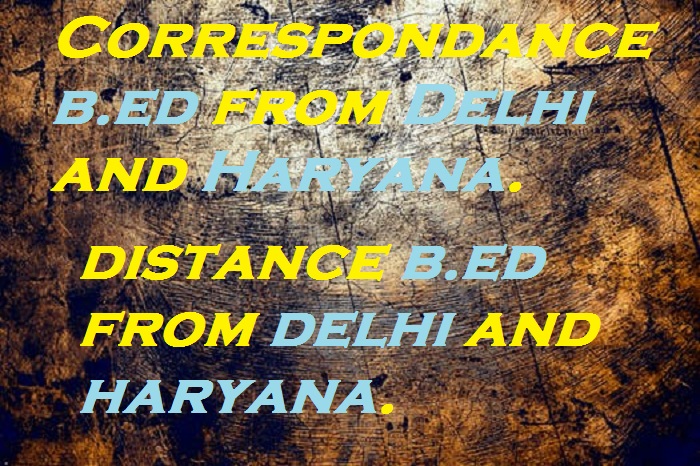 Correspondance b.ed from Delhi and Haryana
B.ed is a course which is chosen by the people who are looking to make their courier is teaching. Mostly the women fraternity opt this program but it is proved as an irony.
There are male candidates also who occupy the place in the arena of teaching. Apart from b.ed, there are so many courses like D.ed, M.ed, NTT, ECC, PTT etc. are the most preferred among such line choosers.
Delhi is a capital of India and in Delhi to there is a huge chunk of delhites who target their life goal as a successful teacher and they mostly prefer Correspondance b.ed from Delhi because might be they are also working somewhere.
Teaching is a noble profession and it gives a platform to make others civilized and educated. Though teaching one can understand and let the others understand the value of education in a life of a common human being. There are so many aspirants who look for teaching- training program and visit number of colleges and schools. Each year in Delhi approximately 1 lakh application are filled by the candidates who intended to take admission in teaching schools.
Taking admission is the first hurdle through which a candidate has to pass the second most important hurdle that he has to pass through is maintaining attendance by attending regular classes. That's why our motive is to provide admission in a distance b.ed course from Delhi or Haryana
Thousands of candidates who are intended to opt B.ed, D.ed or M.ed program are working people who are already working with certain organizations in order to fulfill their bread and butter needs. Such people often answer their dream to be a teacher only because of lack of time to devote or attend regular classes.
Such people prefer correspondence b.ed or distance b.ed or non-attending b.ed through government or private sources.
One of the top b.ed consultants in Delhi is Aplomb India which has been giving its consultancy for last 17 years. Associated with many governments and private colleges of repute.
For more information contact us here:-